I have been tagged by
Arlene of Online Ramblings
. This one is actually hard for me since I have two kids. It would be unfair if I talk about only one from them. So, I decided to make the tag for the two of them. Here's mine!
Big Girl:
1. At age 7, she still wants me to feed her.
2. She talks like a teenager.
3. She likes to sing Celine Dion songs even though she is not yet familiar with the lyrics.
4. She is really good in school but gets reprimanded always because of talking a lot (I think I know where she got those talking abilities, LOL!)
5. She drinks Milo and Nido – in perfect combination.
6. She never ask for anything if she knew I don't have the budget.
7. She likes playing TEKKEN 5.
8. She was born in the year of the Dragon like his dad. (I don't believe in Chinese Astrology.)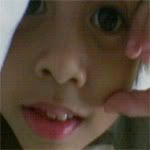 Baby Boy:
1. At age 4, he has his favorites already – undying favorite cartoon character – SPIDERMAN.
2. Like her sister, he loves to drink Milo and Nido – in perfect harmony.
3. When he asks for something, he asks for his sister too.
4. He loves to ask the same question even though I have answered it several times already.
5. He never stop asking for something even though he knows you don't have money (talk about persistence).
6. He says thank you every time you fulfill his requests and needs.
7. He loves to create simple art works from anything he sees in the house.
8. He was born in the year of the Goat just like me. (I still don't believe in Chinese Astrology. I just included it because it's a great coincidence!)
Now, hmmmmm, whom do I tag thee? Let me see…
OK! I am tagging Mommy Dhada, Mommy Darlene, Mommy Hailey, Mommy Lalaine and Mommy Janet. Guys! I hope you don't mind doing this for your beloved babies. Muchas gracias!